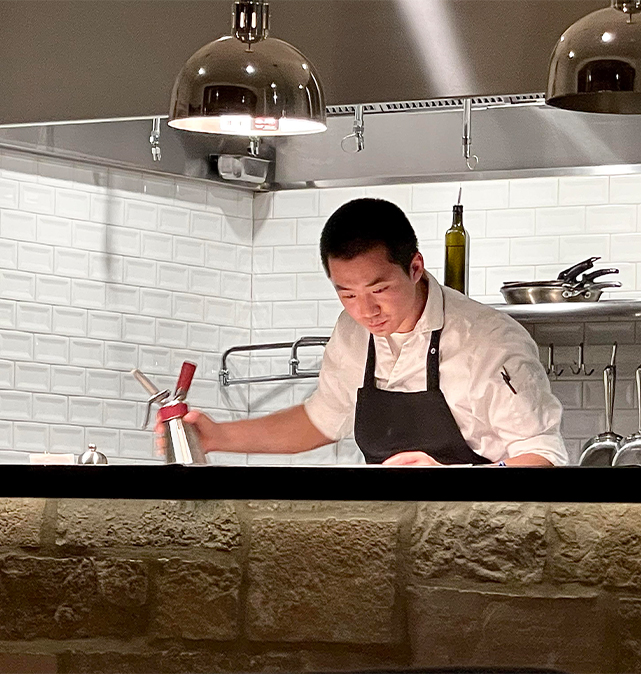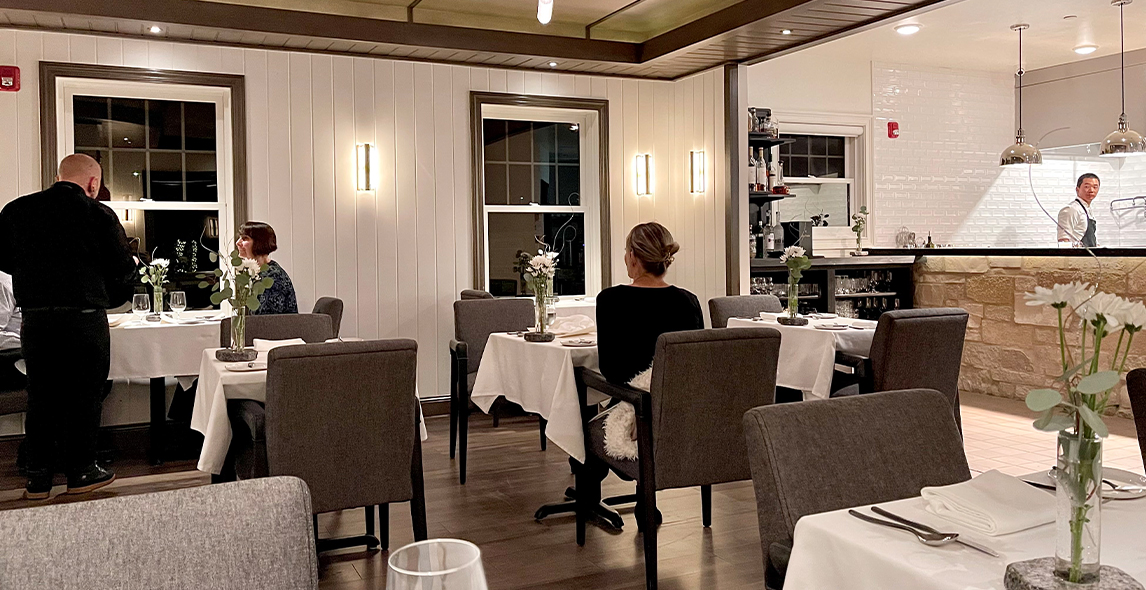 ★★★★★
Fantastic food. The best dinner that I've had in a long time.
★★★★★
Opus Restaurant is the best fine dining experience you will have anywhere, hands down! Absolute perfection!
★★★★★
Excellent dinner! Creative and good sized portions. The wine pairings were outstanding. I highly recommend Opus Restaurant.
★★★★★
An absolutely beautiful restaurant, but words cannot describe the food! Immediately upon entering we knew this was special. The tasting menu was perfectly paired and bursting with flavors unknown to us! Truly the best dining experience we have ever had!
★★★★★
The tasting menu was well balanced with great local flavor. The wine pairings were a perfect fit. The kitchen crew was so focused on their task—it was like watching artists at work. Would definitely recommend Opus Restaurant if you are looking for a fine dining experience above and beyond the norm.
★★★★★
What a fabulous fine dining experience and the perfect all-around evening. Each tasting menu course was a work of art and we also enjoyed the wine pairing. Pricey, yes; but worth every penny.
★★★★★
Opus Restaurant should be on every foodie's bucket list! Chef Kim Buyse cooks with passion and creativity. We absolutely recommend buying the wine pairing, worth every penny!
★★★★★
Absolutely awesome fine dining experience in Lake Geneva!! My wife and I had a great anniversary at Opus Restaurant. The food and wine was paired perfectly. The time there delves into the realm of experiential.
★★★★★
Chef Kim took us on a fine dining journey. The decor, open kitchen and overall ambiance was very comfortable. The food and wine pairings went perfectly together. Every detail was considered and produced a flawless experience. Bold and subtle flavors with great textures. Truly amazing.
★★★★★
Let me just start off by saying wow! You can tell there is special detail and care that is put into everything. The flavors and textures of each food dish worked beautifully together and the wine pairing was perfect. Chef Kim's flavors of French meets Asian pairs wonderfully together.
★★★★★
This is a hidden gem in the Lake Geneva area. The food was fabulous! Chef Kim was amazing! Each tasting menu course was beyond my expectations. The ambiance is quaint and beautiful!
★★★★★
Fantastic Experience! Peaceful dining room, knowledgeable, friendly service, excellent 7 course tasting menu with perfect wine pairings. Among the best fine dining restaurants in Wisconsin.
★★★★★
Opus is a fine dining experience to cherish. The food and wine pairings are tasty and special. Nothing humdrum. The wait staff is pleasant and engaging. It is what fine French influenced cuisine should be. We will return.
★★★★★
This is the finest of fine dining. We find the expense a small price to pay for exceptional food, wine, service and atmosphere. This is the second time we have dined at Opus Restaurant and it does not disappoint. BRAVO OPUS at The Belfry House....BRAVO!
★★★★★
In a word, amazing! It was a very intimate fine dining experience and quite possibly THE finest meal I have ever eaten. The wine pairings with the meal were spot on and perfect. The waitress is on point and manages your fine dining experience with class and is the very definition of professionalism.
★★★★★
This was truly a fine dining experience like no other. The servers and staff were very attentive. The tasting menu was outstanding!
★★★★★
The entire night couldn't have been better. The food is out of this world and prepared perfectly. The wine list is extensive and the service is impeccable. I'd recommend this fine dining experience to anybody that wants to take a moment and have a moment in life that you'll remember.
★★★★★
Opus Restaurant is a hidden gem. If you like ultra-exquisite food in an intimate/romantic setting, paired with excellent cocktails/wine, and a dinner "experience" rather than just "going to dinner", this place is it. It's quite the 5-star fine dining experience and the quality of the food and wine offerings were incredible.
★★★★★
Shhh. Wisconsin's best kept secret. The food is not only art but DELICIOUS. Every dish is the perfect compliment of flavors and beautifully creative. Dish after dish we thought the last one couldn't be beaten, but were more blown away when the next course came out. Opus Restaurant is definitely worth a special trip.
★★★★★
Opus Restaurant was a superb experience; tastes just explode in your mouth, and the presentation was eye popping. I haven't had this type of fine dining experience since Charlie Trotters in Chicago. Will absolutely return.
★★★★★
Exceptional fine dining experience at the highest level! We highly recommend Opus at The Belfry House! We were so impressed by the artistry on every plate! But it not only looked beautiful, every bite was flavorful and delicious!
★★★★★
The entire dining experience was amazing! The presentation of the food courses and wine pairing with it had me in tears of joy. I loved the decor and how quiet it was. The staff was beyond attentive and the sommelier was knowledgeable and courteous. I can't wait to go back! Perhaps this weekend!
★★★★★
There aren't enough words to describe how amazing the fine dining experience at Opus Restaurant was. The food was beyond excellent. The service impeccable. I will DEFINITELY be visiting again
★★★★★
Dining at Opus Restaurant is simply exquisite. The details on each plate are beyond artistic and innovative. What an irreplaceable fine dining experience on all levels. We will definitely be back!!
★★★★★
Perfect for foodies or a special occasion!! Opus Restaurant is an absolute gem!! We are so lucky to have this amazing fine dining restaurant close by!! The food and wine was amazing! The chef came to our table and introduced himself. The staff was top notch!! I highly recommend this special restaurant!!
★★★★★
Dining at Opus Restaurant is like being in a different country! Absolute perfection from the food to the wine pairings. This is such an intimate setting, perfect for a romantic evening in Lake Geneva!
★★★★★
Hidden gem! Dining at Opus Restaurant will transport you to a beautiful little European town. The food & wine combinations and flavor profiles were unique, delicious and plated as gorgeous artwork. Looking forward to my next visit to Opus Restaurant this month.
★★★★★
Beautiful dining room with a view of the chef creating elegant and delicious entrees through his tasting menu! Pristine presentation. Upscale fine dining without a pretentious feel. The wine pairing was on point. Staff were attentive without being intrusive. An adventurous and delightful fine dining experience!
★★★★★
Everything at Opus Restaurant was of utmost perfection. We felt nurtured, enjoyed food and wine combinations that made the meal come alive, artfully beautiful platings, delicious and distinctive flavors. Literally the best fine dining experience, and we have enjoyed fine dining restaurants all over the world.
★★★★★
The food at Opus Restaurant was very complex and you could taste all the layers of flavors. Exceptional preparation and an eye on the details of each plate down to the edible flower petals. The value is incredible compared to the mostly overpriced big city restaurants. Also try the wine pairings, it's worth it.
★★★★★
Opus Restaurant is the fine dining experience in Lake Geneva, hands down. And it stands up to some of the best fine dining restaurants anywhere. And we have traveled the world to dine at many of the best fine dining restaurants globally!
★★★★★
I can't say enough good things about Opus Restaurant. Their attention to detail was amazing. Excellent staff, delectable food, and perfect atmosphere. Prepare to be amazed because they have surprises in store! As a former professor of hospitality, I give them an A+!
★★★★★
Wow! We split our time between Chicago and the Delavan/Lake Geneva area. There are some good fine dining restaurants in this area of Wisconsin, but nothing of this caliber. This is a real gem. I almost hate to write this review because I want to be able to get reservations in the future!
★★★★★
We chose the 7 course food tasting menu paired with wine. OUTSTANDING. One of the best fine dining experiences I have had in my 74 years. The server Lesly knew the wines and menu like Gordon Ramsey. Love it.
Book A Table
Powered by OpenTable
Make A Reservation
Your first step to a memorable night of culinary excellence.
Subscribe to our newsletter